Cottenham 1-3 Willingham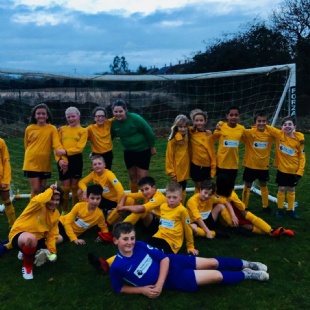 Willingham beat Cottenham 3-1 in tough weather conditions!
Willingham were invited to play Cottenham after we hosted them in early October. Mr Moore set it all up and it was absolutely perfect...except for the weather!! It had been a beautiful day up until 3.30pm, when the heavens opened!!
Cottenham's team was completely different to the team that had beaten Willingham 3-1 previously and the team that took to the tournament. But the Willingham players took nothing for granted! Willingham played their best football, moving the ball quickly, communicating well and actually enjoying themselves! Ben put Willingham into the lead with his first ever goal for the school team. Willingham's lead was doubled when a Cottenham player scored an own goal, giving Willingham a 2-0 half time lead!
The second half was a lot tougher for Willingham, Cottenham started playing much better football and got their reward by pulling a goal back to make it 2-1. Ben was the hero for Willingham though, bagging his second goal of the game and restoring Willingham's two goal cushion. It could have been even more comfortable for when Willingham were awarded a penalty, however it was missed and the score remained 3-1.
The boys were very happy with the result and it was great to see them all playing with a smile on their face again.
We appreciate Cottenham hosting the game and hope to have them back over at Willingham soon.