Willingham Girls played their first friendly!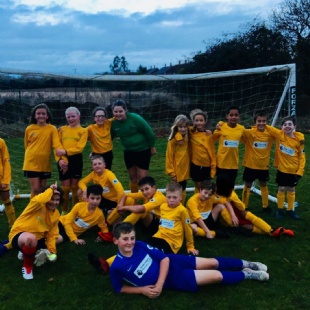 Cottenham 8-2 Willingham, the girls scored their first ever goals!
Mr Carminati had found it extremely difficult trying to find friendly matches for the girls football team as not many schools have a girls team. So when Mr Moore invited Willinham over to Cottenham, Mr Carminati was delighted!
In difficult weather conditions the girls arrived and got playing straight away with no warm up! However, that didn't matter as Lilia ran through the Cottenham defence and scored the girls first ever goal!! Cottenham's ability and quality shone through as they equalised fairly soon after. Cottenham had some really strong players who have bags of talent and they really put on a show scoring some wonderful goals. Willingham battled hard but Cottenham were just too good and raced to a 4-1 half time lead.
Willingham came out for the second half similar to how they started the first with lots of energy and a really good chance! Unfortunately it was missed and Cottenham capatalised by adding to their lead. Lilia did get her second of the game later on in the half which was exactly what Willingham deserved after all the effort the team had put in. Cottenham added a couple more before the end of the match making the final score 8-2.
Willingham can be extremely proud of how well they played and for scoring their first ever goals. It was an absolute pleasure taking them to play and it was great to see them all with a smile on their face.
Cottenham have an extremely talented side and deserved the win.