Willingham 1-3 Bar Hill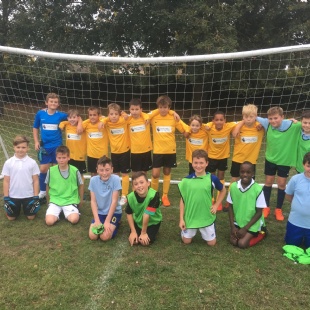 Willingham outclassed by a very strong Bar Hill side
Following Willingham's brilliant victory against Hardwick, we welcomed Bar Hill to play our second warm up friendly before the tournament. We knew this would be a much tougher test as Bar Hill had some very talented and quality players who were well organised.
Bar Hill started the stronger of the two teams, moving the ball well and creating some early chances. Willingham were defending well and keeping out the many Bar Hill attacks. The pressure became too much and the deadlock was broken with some good team play, Bar Hill 1-0 up. Willingham responded brilliantly and took the game to Bar Hill. Oliver started to move the ball forward into their half and was causing their defence some big problems with his skilful runs. Willingham grabbed an equaliser midway through the first half with a wonder strike from Sam. Sam picked up the ball midway through Bar Hill's half, took it past one of their defenders and smashed the ball into the net, 1-1. Willingham couldn't add to their goal and the score stayed 1-1 when the half time whistle blew.
Mr Carminati told the players how pleased he was with how competitive they were being against an extremely talented side. He was happy that they managed to come in at half time very much still in the game. The message to the players was keep going as you are but try to be a bit more clinical with any chances that fall.
The players came out for the second half a little slow which cost Willingham. Bar Hill came flying out and scored two quick goals to make the score 3-1. Willingham's heads seemed to have dropped which was a shame as the first half had been so positive. Willingham grew into the second half and started to improve but the chances weren't coming as freely as the first half, Bar Hill were defending really well. Willingham continued to press but the stubborn Bar Hill defence kept them out and the game finished 3-1.
Willingham played very well and except for a lapse in concentration for the two goals just after half time, they matched arguably the best year 6 team in the county.