Willingham 9-0 Pathfinder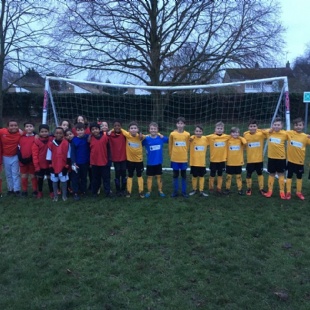 Our year 4 boys played magnificently to beat Pathfinder School 9-0
On Wednesday after school ten year 4 Willingham children played a football friendly against Pathfinder School.
This game had been planned ever since our year 6 team played Pathfinder before Christmas and we wanted to play again so we could have a more evenly matched game as Pathfinder School only have year 3/4 children playing.
Mr Carminati was very conscious that the weather wasn't going to be kind so suggested that all the children should be on the pitch so there was no one standing on the sides getting cold. This meant that it was a 12 v 10 match in Pathfinders favour. However, this didnt put our boys off as they started off very strongly with an early goal from Eddie! Eddie hit a long distance shot on the half volley and it nestled into the far corner, 1-0 Willingham. The lead was doubled soon after with a goal from Ben. Dylan was very creative with a corner and passed it into George who scored a long range effor to give Willingham a 3-0 lead. Connor soon got in on the act with a neat finish making the score 4-0.
Pathfinder kept trying really hard and battled well to keep the score to 4 at half time.
Willingham made some positional changes at half time with Aaron coming out on pitch and Dylan replacing him in the sticks.
Willingham started the second half as they finished the first with lots of attacking football resulting in more goals! Charlie grabbed two in quick succession getting on the end of some brilliant corners from George. Ben got fouled on the edge of the box, which meant George stepped up and rifled the ball into the top corner, a superb free kick! Robert and Aaron also scored in the second half giving Willingham an emphatic 9-0 victory.
Pathfinder can be very proud of their efforts, it was a difficult match for them as the Willingham boys play regularly for their colts team and Pathfinder are a very new team.
Thank you to all the parents who helped with the team while Mr Carminati was refereeing.