Girls Football Friendly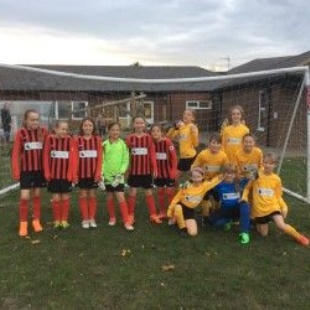 Willingham hosted Cottenham in a Girls Football Friendly
On Wednesday afternoon, Cottenham Primary School made the short journey to Willingham to play a friendly football match. This was a six a side girls match that was arranged after both schools enjoyed success at the recent local girls football competition.
Cottenham brought six year 5 children, whereas Willingham had seven children from KS2 ranging from year 4 to year 6.
Both teams started off well, getting hold of the ball and making some brilliant runs and passes into the oppositions half. Cottenham had the first couple of opportunities but Rachel made some outstanding saves to keep the score at 0-0.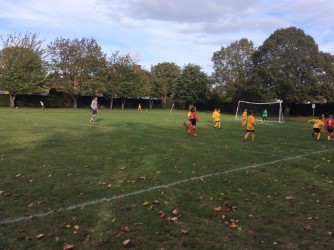 The deadlock was eventually broken when a Cottenham player found some space in the Willingham box and smashed it past Rachel in goal, 1-0 to the visitors.
Rachel continued her heroics in goal keeping the score to just one, but could do nothing about Cottenhams brilliant second goal, 2-0.
Willingham kept working hard and were finding themselves in good areas of the pitch, but Cottenham were defending very well, not allowing the hosts to get any shots away. Willingham were also defending very well with strong tackles from Ava and Mia keeping the Cottenham players at bay.
Half time, 2-0.
Willingham were very happy with their first half efforts against a very strong Cottenham side but knew they needed to get a goal if they wanted to get anything out of the game.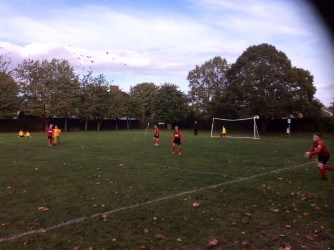 Willingham started off the half brightly with some good runs from Sophia and Georgina causing the Cottenham defence some worries. Poppy was also making some good passes to the attacking players but Willingham still weren't able to get any shots away.
Cottenham made Willingham pay with another fine goal to make it 3-0.
Willingham didnt let their heads drop and they continued to work hard to try and create chances and the moment they'd all waited for arrived when a good run into the box from Georgina ended in a rocket that ended up into the back of the net! 3-1!
In the last minute, Cottenham had a corner which was turned in by their captain at the near post to make the final score, Willingham 1-4 Cottenham.
This was a great opportunity for both sets of girls to have another chance of playing competitive football and it seemed like everyone thoroughly enjoyed the experience. Well done to both sets of players and we hope to have another match in the new year.