Pathfinder 2-8 Willingham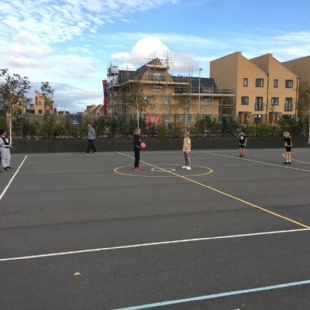 Willingham beat Pathfinder 8-2 in a Netball friendly
On Tuesday afternoon, 8 children made the short journey to Northstowe to have a netball friendly against Pathfinder Primary School.
The children arrived and had a quick tour of the school and they were all very impressed by the size of the building and all the toys they had including brand new Mac computers!!!
Once they got outside, they started to get warmed up but there was an issue..! Isla aggravated her toe injury which meant she was unable to take part in the fixture. Instead, Isla took the job of timekeeper.
Pathfinder Primary is a relatively new school and their netball team is just as new so they were getting to grips with the rules which made a friendly against Willingham a perfect learning experience.
The game started with both teams getting to grips with the rules and positions and no goals were scored in the first quarter.
In the second quarter, Willingham started to become more of an attacking force and scored two goals to take a solid lead at the half way point.
In the third quarter, Ava and Oliver were the Goal Attack and Goal Shooter and they worked incredibly well together! They scored an amazing 5 goals in one quarter to give Willingham a 7-0 lead!! Pathfinder were improving and getting better as they game went on and their efforts were rewarded by scoring just before the whistle of the third quarter, 7-1 Willingham.
The final quarter was an even affair as both teams scored a goal each meaning the game finished 8-2 to Willingham.
This was a great result for Willingham, but more importantly, both teams improved from how they were at the beginning of the match. To witness the players and teams get better was an absolute pleasure and it was such an enjoyable afternoon.
This will definitely be a fixture that will be replayed at some point and we can't wait to play Pathfinder again.
Well done to both sets of players and a massive thank you to the parents that helped transport the children.