Netball Tournament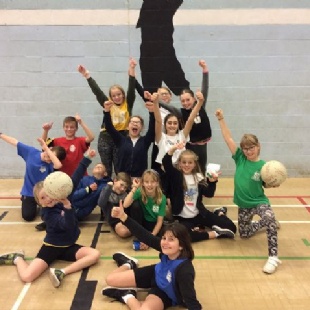 Two Willingham teams competed in the Netball Tournament
On Tuesday after school, 14 children headed over to Cottenham Village College to take part in the first part of the Netball Tournament! Willingham had two teams entered into the tournament with an 'A' and a 'B' team competing against schools from Milton, Cottenham, Oakington and Histon.
The A team's first match was against Histon & Impington B. With Willingham having most of the possession in the first half it was only time before we scored. Histon came back with a goal in the second half but our team fought back, scoring another goal to give us a win ending 2:1 to Willingham.
We had a rest for a match and headed to the indoor court where we were to play the rest of our games. There we were able to watch a bit of the previous game on the very different playing space. Our next game against Milton A was a close, friendly encounter with umpiring shared between Mrs Rodgers and her netball teammate Miss Hawes. Despite lots of shots at goal and determined play, by the final whistle both teams had only scored once each, so drew 1:1.
Another close game followed, against Oakington B. Again, there were some brilliant player combinations which worked well both in defence, putting pressure on their opponents and intercepting the ball and attack, bringing the ball into the shooting circle and making many shooting attempts. In the end 2 goals were scored a piece giving another draw 2:2.
Drawing on their experience from the previous games and of the indoor court the team were more dominant in their final match against Milton B. There was a determination to keep possession and pass the ball to the shooters to try to score. 3 goals were scored to Milton's 1 giving a final win 3:1.
As well as some determined individual play, great teamwork and good sportsmanship the team was expertly captained by Rachel H. We saw great shots at goal with Ollie A, Ava B, Rachel H, Lucas J, Maeve C and Amelia B all scoring and Isla H providing some great supporting play. These results leave Willingham joint 2nd in the A team competition, a well-deserved result. They're now training hard and honing their skills before the 2nd round of the tournament in March against more teams from Oakington, Histon and Cottenham.
The 'B' team played their first game against Cottenham 'A' which was a difficult start and it took a while for the B team to get into the groove of the match and it didnt take long for Cottenham to capatalise and make Willingham pay. The scorline very quickly got out of reach and before anyone knew it, it was 4-0 to Cottenham. This was a very brutal but much needed learning experience for the 'B' team. The knew that they needed to be more focussed and switched on in the next match against Cottenham's 'B' team...
This game was more evenly matched based on ability and physical presence as the B team from Willingham are mainly made up of year 5's whereas the Cottenham 'A' team were all year 6's and their 'B' team were mainly year 5's as well. Willingham clearly learnt their lesson from the first game and they seemed much more focussed and determined to get a positive result. Some fantastic defensive work from Ben & Ella helped build a strong foundation for the team to be able to attack. Louisa was bossing the centre of the court and as a team were moving the ball forward quickly to the two attacking players, George and Birthday Girl Eve.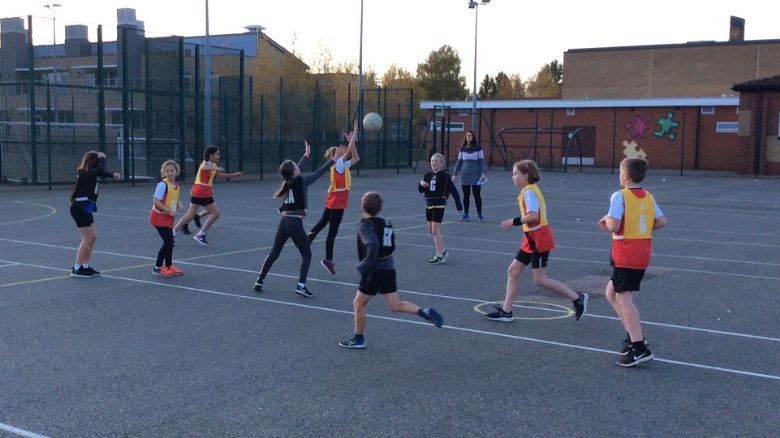 George and Eve were working extremely well together linking up well and finding space resulting in some fantastic goals for the B team! Cottenham got a goal back making it 2-1, but Willingham weren't done and they scored another two which made the score 4-1 to Willingham!
It was a tremendous response from Willingham B who regained their confidence from the first match and clearly showed they have fantastic ability and potential, a great result, well done!
Next up for Willingham B were Milton B. Milton had lost their first two games so were determined to play well and defend stronger than the previous games. Willingham took off from where they left off in the last game, attacking well and moving the ball forward quickly.
Unfortunately for Willingham, the ball just wouldn't go in, the ball hit the rim of the hoop 5 times and nothing was falling for the B team. The game finished 0-0 which was an outstanding result for Milton but a bit disappointing for Willingham B who felt they did enough to get a win from the match. The disappointment of not being able to win the game showed how much the team had come on from the first match that they were disappointed with a draw. the progress shown by the children was incredible and we hope that they can continue to grow as a team.
The final game for the B team was against the favourites to win the tournament, Histon & Impington A team. Histon were a very strong and well organised side that were clinical in front of the posts. This was a tough game after a long afternoon for our players and you could tell that they were struggling physically and mentally. Histon were a much stronger side and came out on top comfortably. It was a difficult end to the afternoon for the A team but they should be proud of how well they progressed in such a short time and we are certain that in the next batch of games, they will continue to improve.
It was a very successful afternoon of Netball and all 14 players should be extremely proud of their efforts.