Kurling at Monkfield Park Primary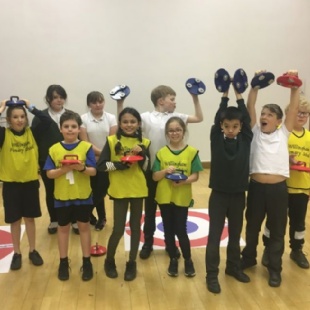 Willingham win 11-8 in Kurling against Monkfield Park
On Wednesday afternoon 6 children from Willingham Primary School travelled to Cambourne to take part in a Kurling friendly against Monkfield Park Primary School.
This was the first time this group of children had played together in this event and it was a thoroughly enjoyable afternoon.
The children all paired up and played against each other to see which Kurling Stone could be closest to the centre of the target.
When the scores were all added up, it finished Monkfield Park 8-11 Willingham. The scoreline wasn't important at all as it was more about the children having a positive sporting experience and trying something brand new.
At the end, the parents all had a turn as well which was very competitive!!!!
Thank you to Monkfield Park for hosting us and we hope you enjoyed the afternoon as much as us!