An Olympian Visits Our School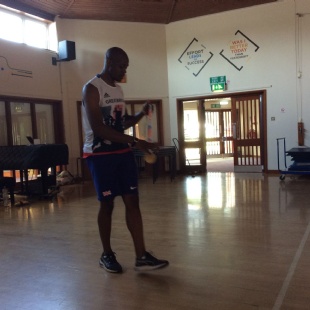 At Willingham Primary School, Tuesday 19th July 2023 will be remembered for two reasons…the hottest day at school ever, and the day that a Team GB athlete came to visit us! Hopefully the children will remember in a positive way for the latter. James Dasaolu, the second fasted man in British history, two time Olympian, two time European Champion and all round great role model, held inspiring assemblies for all the WPS children. James spoke to the children about his journey, his achievements, his lows and his highs, the power of resilience and overcoming adversity. The children sat and listened wonderfully they also asked some fantastic questions.
We were due to enjoy some challenging circuit sessions with James but these had to be called off due to the heat warning in place. However, the children absolutely smashed their fundraising! This means that, not only did we raise nearly £650 for some new sports equipment, we also raised a similar amount for Sports for Champions, who support future champions like James. Maybe one day a Willingham pupil will benefit from this! Either way it is a fantastic initiative and it was a brilliant morning!
Please enter some content for your news story here.